Services Offered at Krislan Ultrasonix

Krislan Ultrasonix provides a wide range of services in our Concord, NH Ultrasound Imaging Center. Our sonographers are courteous, compassionate and efficient. Best of all, you'll know you've done your pocketbook a favor by choosing Krislan!
OB/GYN ULTRASOUNDS

Krislan offers a full range of OB/GYN ultrasound examinations.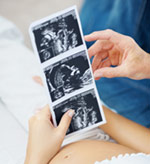 For expectant mothers, Krislan performs Dating Scans in the first trimester, full Fetal Anatomy Scans usually between 18-20 weeks, biophysical profiles, positioning, and other follow-up scans later in pregnancy. 
Krislan performs complete Pelvic Ultrasound examinations for GYN patients. Krislan offers Follicular Ultrasounds for fertility patients as well.
Our Sonographers are happy to have families present during most Fetal Ultrasound Exams.

Krislan's experienced Registered Vascular Technologists (RVTs) have been staffing vascular ultrasound laboratories of hospitals around the state for many years. 
Krislan routinely performs Carotid Artery Ultrasound Examination as well as DVT's to check for blood clots.  It is a goal to offer complete vascular testing in the future.
GENERAL ULTRASOUNDS

Krislan Sonographers are well-prepared to perform most general ultrasounds in our Concord, NH office, having staffed New Hampshire hospital ultrasound departments for many years.  Available exams range from abdominal, kidney, scrotal, liver, gall bladder, spleen, pancreas and thyroid.