About Our Ultrasound Center
Krislan Ultrasonix has provided the state of New Hampshire with professional ultrasound services for over 27 years. Opening an independent imaging center to serve patients in and around Concord NH has been a goal for a while. It was finally realized in 2011.
You can expect to have your ultrasound examination performed by highly trained, professionals using state-of-the-art digital equipment. We offer quality, affordable OB/GYN, Vascular and General Ultrasound Services. See details of our Concord, NH Ultrasound Services.
Krislan Sonographers

Competence • Experience • Compassion
It is not just the experience that sets Krislan Sonographers apart,
it is their attitude toward patient care.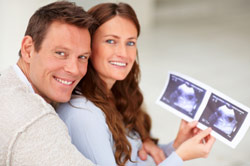 Making patients feel comfortable and at ease is a part of our sonographer's job not taken lightly. Whether talking to an expectant family about images of their unborn child or while checking for blood clots, Krislan Sonographers are compassionate people trying to make your ultrasound experience as positive as possible.
Krislan's Sonographers are among the best in the profession. They have been staffing hospital and physician offices throughout the state of New Hampshire for over 25 years.
Our Sonographers are registered with the American Registry for Diagnostic Medical Sonography (ARDMS) and have extensive scanning experience, with some having over 20 years of experience.